School Immersion in Ireland – 12-18 years – Dublin region
This programme is open to motivated participants aged between 12 and 18 who wish to study for one term, 2 terms or one academic year in a state-run high school in Ireland, in Dublin or the surrounding area. This is a unique opportunity to live alongside young Irish people of your own age and share the daily life of your host family.
Communication and exchange are key to the success of this stay, as are open-mindedness and the desire to adapt to another way of life.
This option is therefore recommended for young people who are sufficiently independent, sociable and open-minded. To facilitate integration, it is also recommended that you have studied English for at least 2 or 3 years.
---
Why Ireland?
A land of legends and wild, grandiose landscapes, Ireland offers a unique blend of traditions that are still very much alive and conviviality. The Irish people are, by nature, artists and musicians, warm-hearted and joyful. The cities are dynamic, bustling and young.
Ireland has a long tradition of excellence in education, with over 80% of young Irish people passing their school-leaving exams.
Our partner in Ireland works with a wide range of schools in Dublin and the surrounding area (with the exception of a few schools in Limerick, Athlone, Galway, etc.).
You can select 2 schools from the list in order of preference. Our partner will give these schools priority for your application. Acceptance into the school of your choice cannot be guaranteed; it depends on your application, availability and the decision of the head teacher.
Please do not hesitate to contact us to receive the school profiles.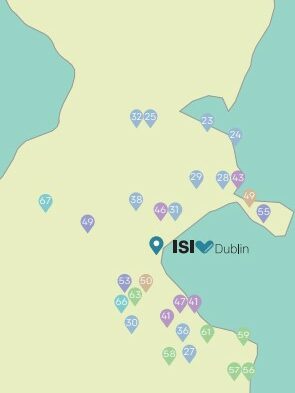 State schools
23 – Malahide Community School
24 – Portmarnock Community School
25 – Fingal Community College
27 – St. David's Holy faith Secondary school
28 – Cabinteely Community School
29 – St. Neasain's Community School
30 – Grange Community College
31- St. Tiernan's Community School
32 – Ard Scoil La Salle
33 – St. Finian's Community College
36 – St. Laurence College
38 – St. Mary's Secondary School
39 – Dominican College Sion Hill
40 – St. Raphaela's School
41 – Manor House School
42- Rockford Manor
44 – St. Fintan's High School
45 – Marian College
What do our students think?
---
Similar programmes
Spend 1 semester or 1 academic year in high school in Canada. Ages 12-18. From € 5.890 for 3 months, € 8.890 for a semester or € 14.990 for one academic year (including tuition, room and board with a host family, and insurance).