School immersion in the United States – Classic programme
This programme is available to motivated students aged 15 to 18½ who wish to experience a semester or academic year in an American High School, (Secondary school) and be a part of an American family's day-to-day life.
---
Experience a semester or academic year abroad in a public American high school living with an American host family. If you're aged 15-18½ with intermediate English skills and a desire to experience American way of life, then this is the program for you. Known for a variety of cultures, stunning landscapes and welcoming people, the only difficult thing about this program will be getting on the plane to go home again!
Please note that this programme places students all over the United States and that you will not be able to choose your exact placement location. However, students are generally placed in the Midwest. Host families are usually situated in cities of moderate size, and students are therefore able to easily integrate into local communities and local activities. To choose your destination, have a look at our Premium High School programme.
You will attend a local public high school where you will be placed in the grade appropriate for your age, academic achievements and English level. Along with your American peers, you'll take between 5 and 7 classes, of which two, English and US History, are compulsory. Classes are held in the morning and extra-curricular activities in the afternoon.
In most American high schools, students choose from a wide range of classes and electives, from sociology and literature to journalism and IT. This is a great way to study subjects previously unknown to you or acquire a different perspective on topics you formerly studied in your home country. Some classes run for one semester, meaning you will be able to study a variety of subjects over the course of the academic year.
Extracurricular activities are an important part of the American school system and you will be able to choose from a wide variety of options: track and field, football, baseball, tennis, volleyball, charity club, student council, fanfare, debate club, speech club, glee club, etc.
A student can take courses at different levels depending on their interests, for example: US History in 9th grade, Environmental Science in 11th grade, Geometry in 10th grade. The choice of the class will be sent to the school principal.
American students study for a minimum of 12 years (elementary, middle and high school). High School includes the final four years of secondary education:
9th Grade (Freshman)
10th Grade (Sophomore)
11th Grade (Junior)
12th Grade (Senior)
Students are required to take English and US History, which are mandatory subjects. They can choose three or four additional electives from the subjects offered at their school depending on their interests.
In the afternoons, extracurricular activities are held. Students can choose to take part in sports or cultural events as well as clubs and associations.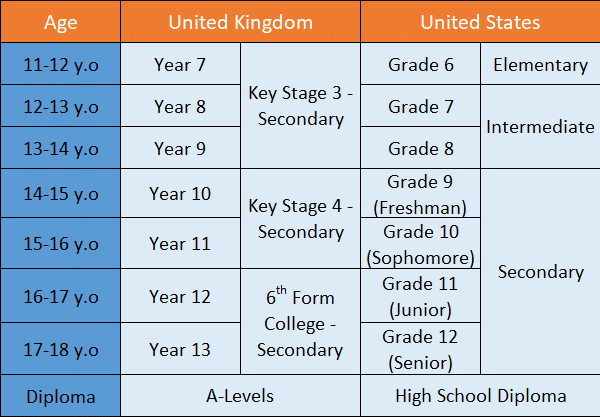 Host families are the highlights of the study abroad experience, helping their host student become fully used to and immersed into US culture and feel part of the local community.
Our partner organization works with volunteer host families who are carefully screened and regularly inspected. Families are not compensated for hosting international students and take a genuinely active interest in choosing a student to host and sharing their homes, lives and culture with.
While staying with your host family, the student will have a single or shared room depending on the placement. All stays are half board.
The local coordinator is an experienced staff member who knows the host families and is in regular contact with the students and their parents throughout the programme. They regularly organize meetings to ensure that the experience is going smoothly, both with the host family and at school. The local coordinator is available to assist in case of any issues and should be the first point of contact.
Our partner organization's local coordinators are all experienced and fully qualified to assist international students, offering them support and assistance quickly and efficiently should issues arise.
Before departure
To make sure your stay goes smoothly and have all the information about the different aspects of the programme, you can attend an information and orientation meeting.
This is organised by Easy Languages Brussels in June. This is an opportunity for Easy Languages students to mingle, share questions and experiences and ask the Easy Languages team any questions they may have. Students from previous years are also invited to share their experiences. The final administrative formalities for your stay will also be undertaken during this meeting.
If you do not live in Belgium, a phone meeting will be arranged to explain all of the procedure so that your stay goes as smoothly as possible.
On arrival on site
A few days after your arrival, the local coordinator organizes an orientation meeting for all students under his/her responsibility.
A second orientation takes place in Chicago on arrival (only for participants arriving in August). Students from all over the world arrive on Friday evening in Chicago. They are welcomed by the local team and follow a two-day programme that allows them to get to know each other, explore Chicago and ask any last questions about the programme. On Sunday, students arrive in their host families equipped with all of the information necessary for a great time.
Please note: Placements sometimes reach us at the last minute, in some cases even after orientation in Chicago. In this case, students will not be able to take part in this meeting and will have a personalized orientation with their local coordinator once they have arrived.
To be eligible for this programme, you must:
Be between 15 and 18 ½ years old at the time of departure

For a departure in August 2022, participants' date of birth must be between 1 mars 2005 and 20 August 2008.
For a departure in January 2023, participants' date of birth must be between 15 August 2005 and 20 January 2009.

Demonstrate intermediate English language proficiency (minimum 3 years' of English classes or previous study abroad experience). Students must have passed the ELTIS test with a minimum score of 216 for August/September departures and 223 for January departures. Students can take the test at our offices in Brussels or Paris.
Demonstrate a good academic record for the three school years prior to departure
Demonstrate their flexibility, maturity, adaptability, and readiness to face the challenges of living in a new culture
Do you fit the criteria for participation? Think this high school abroad program is for you? Then follow these steps:
Send us a registration form as soon as possible.
You will then receive a pre-confirmation form and an application form to be completed. We will ask you to pay a €100 deposit in order to take a proficiency test and to provide us with your school results for the past 3 years. The interview fee is non-refundable and is deductible from the final cost if enrolment is confirmed.
We will then invite you to come to our office in Brussels or Paris for the full interview. You must come to our office with the first part of the application form filled in.
If the interview is successful, we will ask you to pay a deposit (25% of the total amount, minimum €1,500) and to send us the relevant documents completed. This includes recommendation letters from your teachers, your medical history and other information needed to process your booking. As soon as we receive all the documents and the deposit, we will send the application file to our partner.
The final decision is taken by our partner
Once your application is confirmed, our partner will start to look for a host family and a school.
The deadline for handing in completed application forms is:
April 15 for August departures
September 15 for January departures
The booking forms must be completed and sent to our office (in Brussels or Paris) ** at least 3 weeks** before the deadline. All late applications will incur an additional €200 rush charge.
Just missed the deadline? Why not try our High School Classic Plus programme? With practically the same conditions, this program allows you to send your application on 13 June at the latest for August departures, and 28 November for January departures.
Departure is scheduled for August for stays of one semester to one academic year. Departures are also scheduled for January for stays of one semester. Your family or local correspondent will welcome you at the airport and take you back at the end of your stay.
Once enrolment is confirmed by our partner, we can make your travel arrangements to the USA if you wish. The booked ticket will include the least amount of changes possible. One free of charge change to the ticket may be made, once the return date is confirmed.
If you prefer to make your own travel arrangements, we will provide you with the relevant information necessary for your booking. Be careful, you will have to arrive at your destination before 10 pm.
A student visa is required to take part in this programme (J-1 Exchange Visitor Visa). This visa is valid for the duration of your stay. We will provide you with the necessary documents to obtain the visa and assist you throughout the visa process.
Basic medical insurance is included in the costs mentioned. For more complete coverage, we recommend the travel insurance we offer, tailored to youth stays abroad.
Dates 2022 – 2023
Academic year: from August to June (according to schools)
Academic semester: from August to December OR January to June (according to schools)
Orientation weekend in Chicago: August 12 to 14 or 26 to 28
*Back to school dates are set by the schools and can be from the end of July to mid-September. The dates of stay are therefore set once the participant has received his or her placement.
Prices 2022-2023
Fares with flights subject to change depending on ticket prices at the time of booking
Tuition room and board, all registration fees, transfers included (flights NOT included)

Programme duration

Price

Academic semester

€

7.800
Academic year

€

9.600

Tuition, accommodation and meals, all registration fees (flights and taxes included)

Course duration

Price

Academic semester - Departure from Paris, Brussels, Luxemburg or Geneva

€

9.100
Academic year - Departure from Paris, Brussels & Geneva

€

10.900

Weekend orientation in Chicago (for those departing in August only)

2 days

€

600
Prices include:
English test and preliminary interview
All necessary documents for the visa required for the school year
High School enrolment for a year or one semester
Supervision throughout the stay from local correspondent
Homestay accommodation, half-board
Personal assistance, constant support and advice from our local correspondent
Medical insurance
Assistance for parents in Europe throughout the stay
Regular contact and evaluation
Official certificate of participation including a transcript of records, depending on destination
American diploma (in some cases)
Return flight from Brussels, Paris or Geneva, if requested (at extra cost from Lyon or Marseille – please contact us for information on flights departing from other locations)
Return transfer from the airport to the host family
Prices do not include:
Round-trip flight to the airport
Orientation weekend in Chicago (for August departures only)
Visa fees (around €300)
School material fees (depending on the school, bring about $400)
Midday meals at school (around $3-5 per day)
Pocket money – bring about $250-300 per month
Health insurance and Assistance
---