Our destinations in Belgium
Language programmes in Belgium
With Brussels as the European capital and the geographical centre for language holidays. Belgium's charm and cultural mix is no longer to be praised. We partner with a large number of schools in Belgium, whether it's in Bruges, Antwerp, Brussels, or even Spa : we have the destination that will provide you with a great language experience being immersed in the target language while having fun.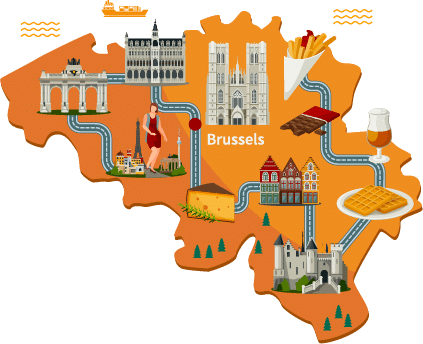 Why choose Belgium for your language travel?
When you think of Brussels, the Atomium, the Grand Place and the Manneken Pis probably come to mind. But this city has much more to offer. You will find bars like the "Delirium Cafe", with more than 2400 different types of beer! If there is one place in Brussels where you will never get bored, it is in the "Parc du Cinquantenaire", one of the most beautiful parks in Brussels. It is close to the city centre and is surrounded by a beautiful architecture.
The city of Bruges is undoubtedly the biggest tourist attraction in Belgium. It is picturesque, charming and incredibly quaint, making it our favourite city in all of Belgium. While the streets are full of tourists during the hottest months, the coldest months at the beginning of the year are among the best months to visit, as the streets are much quieter. But don't come to Belgium only to visit Bruges!
One of the most beautiful cities in Belgium is Antwerp – a much larger city and constantly considered as the fashion capital of Belgium. Antwerp is just as pleasant to visit as Brussels, with its coffee culture, small shops and great local designers. It is perhaps the place of choice for young people in their 20s and 30s to relax and spend a few days.
For more information on Belgium, visit the Belgium official website.
Our favourite destinations in Belgium
Summer Camp. Ages 8-17. French & Sports, French & Culture, half-day and day trips. 1 week from €645 (including residential accommodation, full board, shared room, all lessons and activities).
Why organise your language programme with Easy Languages ?
Easy Languages has been organising language stays in Belgium for almost 30 years now for juniors, young people and adults. Whatever your language level , your age or destination, we have something for you. Our advisors are at your disposal to help you choose a language travel destination in Belgium, and will assist you from the beginning to the end of your stay.
For more information about our services, please consult our page "Why Easy Languages?".
To find out more about organising a language travel abroad, please visit our page "How to organise your language programme"