Our destinations in Germany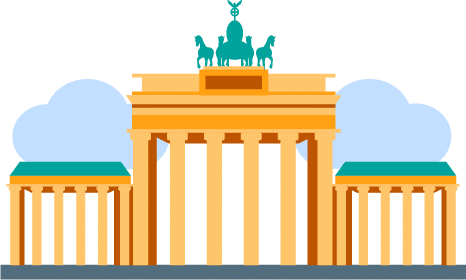 Language programmes in Germany
Learning German is learning a language spoken by more than 100 million Europeans. The best solution ? an immersion in Germany or an internship in Austria to learn about the culture and understand its subtleties. For all budgets, all targets and all levels, our partner schools offer German courses from one week to one year. Intensive courses, courses for beginners, holiday programmes: there is always something to fit with everyone's expectations!
Available in the summer, our holiday programmes in Germany are designed for young people aged 8 to 17 and divided according to age and level. They are specially adapted to meet the needs and desires of the youngest. Whatever your budget, needs and desires, you'll find a programme that suits them.
Going to Germany offers participants the opportunity to experience a fascinating culture while discovering beautiful cities and enjoying the many activities and excursions available during your stay.
Why choose Germany for your language travel ?
Germany is a diverse country with many attractions! The combination of the old-world charm and modern urban cities makes it an ideal destination for a language course. With a wide range of food, accommodation and drink options, Germany is traditionally cheaper than most of its European counterparts.
Furthermore, Germany is a real cultural feast at any time of the year : from the Oktoberfest to the Christmas markets, the carnival and the famous burning Rhine, Germany has a fair to celebrate it all !
Divided into 16 different states, the country has a region and an activity for everything. In addition, each state has different food and drink specialities. Thirteen national parks provide a quiet escape from the hectic pace of city life.
Germany is also synonymous with innovation and cosmopolitan life with three cities hosting more than one million inhabitants each. These modern cities offer a variety of music, shopping, bars and nightlife that are sure to entertain young and old alike.
Our favourite destinations in Germany
From 14 to 17 years, minimum stay of 2 weeks. Programmes available throughout the year. General German Standard or Intensive lessons. Homestay accommodation. 2 weeks from € 1290 (including 20 lessons per week, activity programme, Homestay full board accommodation, shared room).
Why organise your language programme with Easy Languages ?
Easy Languages has been organising language stays in Germany for almost 30 years now for juniors, young people and adults. Whatever your language level , your age or destination, we have something for you. Our advisors are at your disposal to help you choose a language travel destination in Belgium, and will assist you from the beginning to the end of your stay.
For more information about our services, please consult our page "Why Easy Languages?".
To find out more about organising a language travel abroad, please visit our page "How to organise your language programme"