School Immersion at Chichester College – ages 16-18 – 1 term, 1 semester or 1 academic year
This programme is aimed at young, motivated students aged 16 – 18* years old who wish to study from 1 term – 1 academic year in a British college while taking English classes.
*Students aged 19 – 20 can also be accepted on request: in this case an extra charge is applicable and will vary depending on the type of programme you choose.
---
Chichester
Chichester is a small, friendly city in southern England located in a stunning natural setting, nestled between the south coast of England and the rolling green hills of South Downs National Park. Its rich cultural and historical heritage, gorgeously preserved Georgian architecture and 11th-century cathedral make it a tourist destination of choice. With around 115,000 inhabitants, Chichester boasts an excellent quality of life and a safe environment, ideal for students. London is just 90 minutes away by train.
Chichester college is located in vast grounds with a breathtaking view of Chichester Cathedral, only ten minutes on foot from the city centre, as well as an array of shops and the town's tourist attractions. The college has 15,000 students and offers a wide range of academic and vocational courses. In addition, the college enjoys an excellent reputation due to its 'Outstanding' success rate at A Level exams.
Chichester offers state-of-the-art facilities:
Classrooms equipped with SmartBoards
Multimedia centre with over 150 computers
Library
Music room
Drama room
Sports centre with large multi-purpose sports hall and a wide range of activities (basketball, football, badminton, trampoline, climbing wall, and much more)
Fully equipped fitness centre and gym
Sports grounds (football, hockey, rugby, tennis)
Beauty Spa
Student Union
Cafeteria
Shops
Travel agency
Extracurricular activities during your stay
You will be able to use the ultra-modern state-of-the-art sports facilities for your favourite sport or workout: tennis, football, badminton, basketball, dance classes, climbing, and many more.
With over 25 activities on offer, you can also get involved in Chichester College's Student Union or one of its many Student Clubs – from film screenings and cookery classes to sports, business events and more. What better way to make friends with the locals?
There is also a whole host of activities on offer for international students, such as:
Trips to London or Brighton
International get-togethers
Sports meetings
Theatre outings
The programme combines 5 to 6 hours of English classes with other international students and 14 to 20 hours of academic courses with British students.
The number of English classes varies depending on the timetable of other subjects that you have chosen.
There are 2 options to choose from:
The academic sector levels "AS-Levels & A-Levels" which are exams essential for those wishing to attend a British university. Examinations only take place after a course of 2 years.
Programme AS-Levels & A-Levels: 2 subjects of your choosing from the subjects in light pink (please see table below).
Minimum level of English: B2 or IELTS 5.5
Duration: 1 academic year
The vocational track: "Vocational Courses" are practical training courses oriented towards the professional world and prepare for a specific trade. The diploma is awarded after two years of study.
Programme Vocational Courses (1 subject choice) from the subjects in dark pink (please see table below)
Minimum level of English required : B1 or IELTS 5
Duration: 1 term, 2 terms or 1 academic year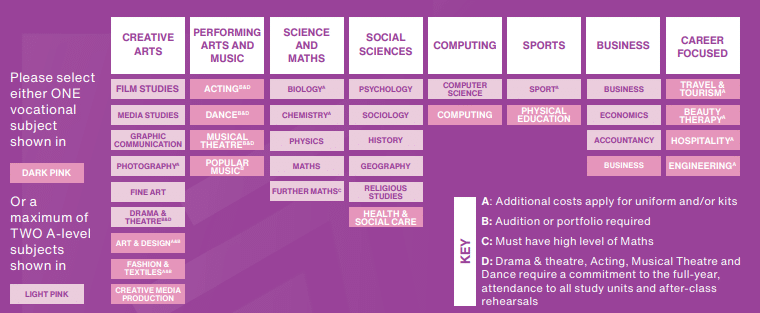 (1) Uniforms and course material are not included in the price
(2) Interview and/or portfolio required
(3) High level of maths required
(4) Drama & Theatre, Acting, Musical Theatre and Dance require a commitment to the full-year; attendance to all study units and after-class rehearsals
Homestay (Ages 16+)
Single room, shared bathroom, half-board during weekdays and full board during weekends.
Travel time to the college:
Zone 1: 30 minutes approx. from the campus by bus Accommodation with host families living around Chichester
Option with additional fees:
Zone 2: Accommodation with host families approx. 20 minutes from the campus on foot.
Practical information
Bed linen provided
One laundry load per week is included in the price of accommodation. For any additional laundry loads, requests should be made to the host family.
Residence on campus (Ages 18+)
Westgate Hall houses around 160 students and is located on campus.
Features
Single room
Private bathroom
Self-catering
Equipment and Services
1 shared kitchen per shared 6-bedroom flat
Common room with TV and DVD player
Vending machines with snacks and drinks
Secured badge access to single rooms, flats and buildings
Open access to the campus gym
Common areas and kitchens are cleaned daily. However, students are responsible for cleaning their rooms and bathrooms.
Bed linen, towels, pillows and duvets are not provided.
Optional Extra:
Bedding packages including a duvet, pillow and sheets are available for purchase on arrival at the Hall, but must be pre-ordered.
Residence on campus (16-17 years old)
Woodlands Hall only houses students aged under 18. It accommodates roughly 90 students and is located right on campus.
Features:
Single or shared room, full-board
Shared bathrooms and toilets on each floor.
Equipment and services:
1 reception
2 common rooms
Large-screen TV
Pool and ping-pong tables
Xbox
Karaoke Wii
Wi-Fi in common areas
Open access to the campus gym
Coin laundromat
24-hour supervision
CCTV in all corridors
Weekly study sessions
Be between 16 and 18 years old. Students between 19 and 20 years old can be accepted on request: a supplement for courses is applicable in this case and varies according to the subjects chosen.
Have a good level of English (IELTS 5.0 or 5.5 depending on the programme)
Have achieved good academic results in the last 2 years
A willingness to make new friends and share the daily life of a host family
Demonstrate motivation, maturity and adaptability
Do you fit the criteria for participation? Think this high school abroad program is for you?
Send us a registration form as soon as possible.
You will then receive a pre-confirmation form and an application form to be completed. We will invite you to pay €100 in order to take a proficiency test and to provide us with your school results for the past 3 years. The interview fee is non-refundable and is deductible from the final cost if enrolment is confirmed.
We will then invite you to come to our office in Brussels or Paris for the full interview. You must come to our office with the first part of the application form filled in.
If the interview is successful, we will ask you to pay a deposit (25% of the total amount, minimum €1,500) and to send us the relevant documents completed. This includes recommendation letters from your teachers, your medical history and other information needed to process your booking. As soon as we receive all the documents and the deposit, we will send the application file to our partner.
The final decision belongs to the college after examination of your application form and an interview by phone. You will be accepted to your chosen courses according to the availabilities, your level of English, your previous academic background (the College requires good marks in the desired subjects) and the enrolment dates.
Your application is officially confirmed as soon as you receive the letter of acceptance from the College
closing dates for enrolment :
15/07 if you are applying for September
15/11 if you are applying for January
Enrolment after the deadline will depend on availability. Extra fees for the delay may apply.
Getting to Chichester
Arrivals: Sunday
Departures: Saturday
Nearby airports : – London airports (Heathrow, Gatwick, Stansted, Southampton)
Airport transfers available on request (additional fees apply, see price list)
Please note: Do not make travel arrangements until we have confirmed your enrolment in your chosen course.
For European citizens:
Until 30/09/2021 the ID card is sufficient to enter the UK. After this date, a valid passport will be compulsorily required.
Entry conditions from 01/01/2021
EU citizens can travel to the UK without a visa if their stay does not exceed 6 months. They must carry a passport valid for the duration of their stay.
All stays longer than 6 months require a visa. Visa applicants must provide a Confirmation of Acceptance for Studies (CAS) sent by our partner school.
For students between 4 and 17 years old you must also:
be able to prove that you will have sufficient funds to cover your expenses during your stay.
have the consent of your parents or legal guardian to study in the UK. You will be required to obtain official permission to leave your contry's territory.
For students of age 16+ you must also:
have a minimum level of B1 in English
For more information please visit our Visa Information page.
A medical/accident/repatriation and civil liability insurance is compulsory for this type of stay. You will be asked for a certificate of insurance at the time of your application.
Easy Languages offers you a complete insurance adapted to the stays of young people abroad, see Insurance and guarantees.
Dates 2021-2022
The academic year is split into 3 terms. You can choose to stay for 1 term or 1 semester (no visa needed) or 1 academic year (visa needed).
We recommend a September start for a true British student experience. You'll be starting the school year on the same foot as your peers – with a lot to learn and friends to make.
Term dates:
Autumn Term (Trimester 1): from 06/09/21 to 17/12/21 (holidays from 25/10 to 29/10/21)
Spring Term (Trimester 2): from 11/01/22 to 08/04/22 (holidays from 21/02 to 25/02/22)
Summer Term (Trimester 3): from 25/04/22 to 24/06/22 (holidays from 30/05 to 03/06/22)
The school is closed on the following dates:
Christmas holidays: from 22/12/21 to 04/01/22
Easter holidays: from 11/04/22 to 22/04/22
Bank holiday: 28/09/21, 11/11/21, 04/01/22, 02/03/22, 02/05/22, 30/05/22
Prices 2021-2022
Includes room and board, tuition fees, classes, and registration fees
Tuition fees + family accommodation Zone 1 (single. room, half board)

Start dates

1 term

1 semester (6 months)

1 school year

September 2021

€

6.095

€

9.795

€

16.995
January 2022

€

5.595

€

9.795
-

Extras - family accommodation (per week)

Family Zone 2

€

25

Tuition fees + residence accommodation (+18 yrs) - single room, without board

Start dates

1 term

1 semester (6 months)

1 school year

September 2021

€

6.095

€

9.795

€

16.995
January 2022

€

5.595

€

9.795
-

Extras - full board (per week)

€

130

Tuition fees + residence accommodation (16-17 yrs) - shared room, full board

Start dates

1 term

1 semester (6 months)

1 school year

September 2021

€

7.595

€

12.195

€

21.095
January 2022

€

6.895

€

12.195
-

Extras - single room (per week)

€

30

Transfers (each way)

London Gatwick

€

145
London Heathrow

€

160
Southampton

€

120
Prices include:
English placement test and pre-enrolment interview
Your chosen course
Accommodation depending on the type chosen (short holidays included)
Access to all the school's facilities and services
Access to the school's medical services
Guidance from a personal tutor at the college
Assistance from the Easy Languages offices before, during and after your stay
All taxes and enrolment fees
Prices do not include:
Travel to and from Chichester
Airport and/or railway station pick-up
Transportation in and around Chichester
Course materials, textbooks
Bed linen for residence accommodation (18+)
Optional insurance
---