Live and Study at Your Teacher's Home – Spanish private tuition
This is the most effective way to make rapid progress. You will live with your teacher who will give you private lessons adapted to your goals and needs. In this way, you share his or her daily life and activities and experience a real 24-hour immersion in the language.
You have the possibility to follow a general language course, i.e. a course focused on a specific subject or exam preparation. It is also possible to combine your courses with options (sports, activities, culture).
Destinations
Alicante
Barcelona
Basque Country
Granada
Madrid
Málaga
Salamanca
Seville
Tenerife
Valencia
Teachers are not usually located in the town centre, as we put greater emphasis on their quality and competence over geographical location. We would kindly ask you to choose 3 regions of preference on your enrolment form.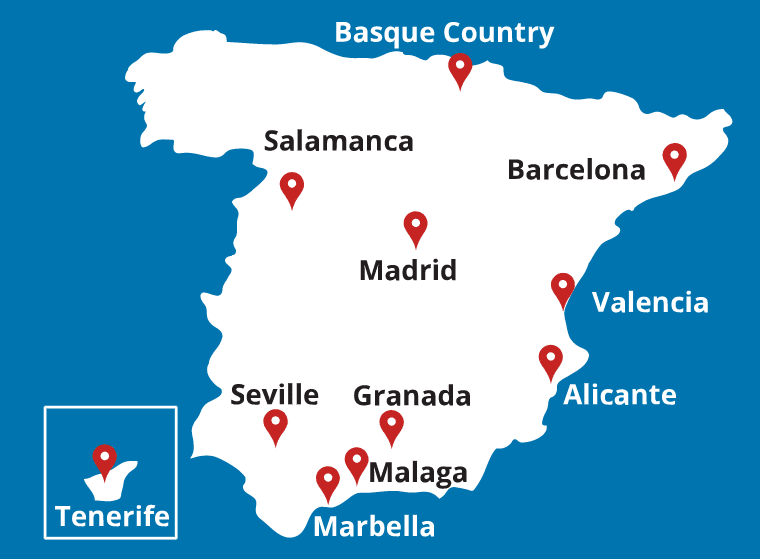 ---
Dates & Prices 2021
Dates 2021
Course start dates: every week, year-round
Prices 2021
All registration fees and taxes included
Standard programme - Price per week

10 hours

€

1.090
15 hours

€

1.145
20 hours

€

1.345
25 hours

€

1.545
30 hours

€

1.745

Language & activities programme - Price per week

10h lesson + 5h activities

€

1.245
15h lesson + 5h activities

€

1.445
20h lesson + 5h activities

€

1.645
25h lesson + 5h activities

€

1.845

Language & sport programme

Sports supplement per week

Golf

Surfing

Tennis

All regions

€

335

€

250

€

250

Language & culture programme

Supplement 3 cultural visits per week

€

300
Supplement 3 cultural visits per week (for 10 hours of lessons programme)

€

200

Optional supplements (per week)

Extra night

€

115
Transfer (per trip) *

€

85
Exam / Business Preparation

€

130
Option cocooning (mandatory -15 years)

€

150
Christmas or New Year supplement

€

145
Private bathroom option

€

180
Special diet

€

150
Special needs - Handicap, dyslexia, ADHD

€

150
*return trip obligatory for 16 years and younger.
Prices include:
The chosen program
The courses and use of the teaching material
Stay in an individual room with your private teacher
Full board
All taxes and registration fees
Assistance by the regional coordinator
Level test, participation certificate and internship report (on request)
Prices do not include:
The journey and transfers
Possible supplements (" Specific vocabulary/preparation for exams ", " Cocooning ", stay " Five Stars ")
Supplements for end-of-year celebrations during stays (24, 25, 26, 31 December and/or 1 January)
Possible extra nights
Visa fees, if any
Possible optional insurances
Discounts
If 2 students with the same level wish to stay together and follow a course, each of them receives a 20% discount.
If a person wishes to accompany the participant and share the room, but does not wish to take lessons, this person benefits from a 20% discount.