High School Immersion in Spain – 15-18 years old – 1 month to 1 academic year
This programme is aimed at motivated students aged between 15 and 18, wishing to study in Spain, for 1 or 2 months, 1 term, 1 semester or 1 academic year. You will study at a local "Colegio" and share the daily life of a Spanish host family.
Why Spain?
Spanish is a global language with nearly 500 million native speakers. It is the second most spoken language in the world and the third most used language on the Internet after English and Chinese.
Spain is above all a mosaic of cultures, diverse and heterogeneous. Every region boasts it's own identity, history and culture, and the geography is just as diversified. While discovering Spain, you will surely fall in love with it's natural beauty and diversity but above all with it's people, their friendliness, their passion and their joy of living.
Placements take place all over Spain, including the Baleares or the Canary islands. If you wish to stay in a specific region or city, you can choose one of the options below. These options are offered at an extra cost. They are only available for students studying at least one term.
Option 1: guaranteed area
To be chosen between:
Eastern Region (includes regions of Valencia and Murcia)
Southern Region (includes Andalusia)
Barcelona Region (not in the city of Barcelona, but in large towns and cities around Barcelona, including Sant Cugat, Cerdanyola, Sabadell, Terrassa, Rubi, etc. )
Option 2 : guaranteed city
Cities: Sevilla, Zaragoza, Valencia, Alicante, Cádiz, Murcia, Huelva, Rivas-Vacia (Madrid), Barcelona.
If you wish to choose this option, please mention 2 destinations on your booking form.
Note: Rivas-Vacia (Madrid) is available for september students only.
During the academic year, our local partner organises excursions for all the international students to Madrid, Sevilla or Malaga. All the information will be provided by your local coordinator.
---
This programme is open to motivated students aged 15-18 with a good command of Spanish who wish to study for 1 term, 1 semester or 1 full academic year in a Spanish "colegio" (secondary school), while sharing the life of a host family.
This programme places students all over Spain, including Balearic and Canary Islands. For those who wish to choose their host city or area, such an option is possible at an extra cost.
Lessons
You will attend a local public high school where you will be placed in the grade appropriate to your age, academic achievement and Spanish ability. However, the final decision will be made by the school's headmaster and the Spanish Ministry of Education. You have to attend all classes, such as any Spanish student.
The subjects taught vary according to the class and usually include: maths, Spanish, English, a science course (physics, chemistry or biology) and physical education.
You will be placed in the same classes as your Spanish peers and will stay with the same group for the majority of the day. In Spain, teachers move from one classroom to another. Usually, lessons take place from 8 – 8:30 am to 2 – 2:30 pm with a 30 or 45 minutes break before noon. Students buy a snack at school or bring it from home. They have lunch when they return from school at around 3 pm.
The Spanish way of teaching is close to the one encountered at university. It means that teachers deliver a lecture course and that students have to take notes and do the homework requested. A Spanish student dedicates 2 to 4 hours a day to self-study, mainly in the afternoon (note revision, assignments to submit, projects). Yet, teachers are extremely open to advising you in order to overcome any potential difficulties.
Students are handed their school report in December, March and June. Grades (between 0 and 10) display everyone's performance obtained throughout the term for each subject. Foreign students have to strike a 5 for each subject, which is considered a very decent performance, taking into account the language barrier.
Schools
You will attend a local public high school where you will be placed in the grade appropriate to your age, academic achievement and Spanish ability.
In Spain, Spanish students take priority over international students. Due to this, the placement of international students can only be confirmed definitively once all Spanish students are enrolled in the school. Therefore, placement in a specific school cannot be confirmed early.
Timetables vary according to the schools, either 08.00 to 15.00, or 09.00 to 13.00 and 15.00 to 17.00.
Note: private or semi-private schools are available on demand and at an extra cost.
Education in Spain is divided into three stages: primary school (6 to 12 years), secondary school (12 to 16), and Bachillerato (16 to 18).
The Bachillerato corresponds to the last two years of secondary school, it completes the four years of "compulsory secondary study" (enseñanza secundaria obligatoria in Spanish). International students will enrol in the following grades:
3 ESO: 14-15 years
4 ESO: 15-16 years
1 BACHILLERATO: 16-17 years
2 BACHILLERATO: 17-18 years
The Spanish education system is based on continuous assessment. There is no national exam that marks the end of study, the end of school diploma is given depending on the results obtained throughout the year.
The academic year is split into three terms:
1st term: September to December
2nd term: January to March
3rd term: April to June
Exact dates of each term depend on the region of Spain. There is a winter holiday (about 2 weeks) and an Easter holiday (1 week to 1 week and a half)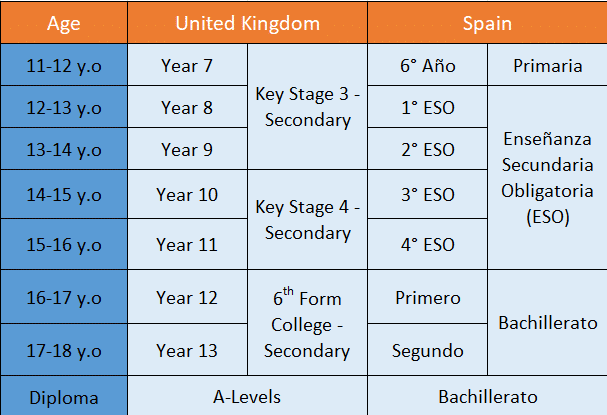 Spanish Host Families
Your host family is the defining feature of your study abroad experience, helping you become fully accustomed to Spanish culture and feel part of the local community.
Families take an active interest in choosing a student to host and sharing their homes, lives and culture with their guests, through which they can get to know a new country.
75% of the families have already been hosts to foreign students and most of them have children of their own. All families are of Spanish nationality.
Students will be placed in single or shared room with a same-sex and same aged-child. The family provides all the meals, except those taken at school.
The Spanish way of life is typically Mediterranean, and the mealtimes are extremely different from Northern Europe. Lunch is taken around 3 pm and dinner around 9 pm.
The local correspondent is an experienced staff member who knows the host families and is in regular contact with the students and their Spanish parents throughout the programme.
They regularly organize meetings to ensure that your experience is going smoothly, both with your host family and at school. Your local coordinator is on hand to lend assistance in case of any issues and should be your first point of contact on the ground.
A 24hrs emergency hotline is available for any urgent issues that arise during your stay.
On option
Students can choose to attend our orientation camp in Barcelona (2 nights on site), which takes place in September and in January, from Friday to Sunday. This orientation is aimed at long term students (1 term, 1 semester and 1 full academic year). It is be an amazing opportunity to meet all international students taking part in the programme while visiting Barcelona and accustom yourself to all aspects of the forthcoming experience.
The orientation camp includes: full-board accommodation (shared rooms in a hostel), orientation in English, a city tour and supervision. It also includes airport transfer on arrival (from barcelona airport) and the transportation (most likely by train or plane) from Barcelona to the host area.
To be eligible for this programme, you must:
Be between 15 and 18 years old
Have sufficient linguistic skills so that you are able to communicate without difficulty (a minimum of 2 years of Spanish study)
Demonstrate a good academic record for the two school years prior to departure
Demonstrate their flexibility, maturity, adaptability, and readiness to face the challenges of living in a new culture
Do you meet all of the requirements?
Fill out one of our online booking forms.
You will then receive a pre-confirmation form and an application form to be completed. We will invite you to pay €100 in order to take a proficiency test and to provide us with your school results for the past 3 years. The interview fee is non-refundable and is deductible from the final cost if enrolment is confirmed.
We will then invite you to come to our office in Brussels or Paris for the full interview. You must come to our office with the first part of the application form filled in.
If the interview is successful, we will ask you to pay a deposit (25% of the total amount, minimum €1,500) and to send us the relevant documents completed. This includes recommendation letters from your teachers, your medical history and other information needed to process your booking. As soon as we recieve all the documents and the deposit, we will send the application file to our partner.
The final decision belongs to our partner
Once your application is confirmed, our partner will start to look for a host family and a school.
The deadline for handing in completed application forms is:
May 1st for September arrivals
October 1st for January arrivals
Please note: late applications will be dealt with on a case-by-case basis and subject to an extra cost (see Dates and Prices tab)
The booking forms must be completed and sent to our Brussels head office at least 2 weeks before the deadline.
Students outside of the age limit or not meeting the Spanish language requirements are welcome to discuss alternatives with us.
Journey
You should plan your trip to the closest airport / station to your host family's place of residence. Details will be provided to you at time of placement.
Please note: Do not make travel arrangements until we have confirmed your placement
Visas
EU citizens do not require a visa for this programme. Students from non-EU countries (the USA, Brazil, Japan, Korea, etc) can stay in Spain for up to 90 days without a visa.
For stays over 90 days (3 months), you will need a long-stay visa to cover the duration of your stay. Please contact the Embassy of Spain of your country for all information that you need.
All fees incurred during the visa acquisition process are at student's expenses.
A medical/accident/repatriation and liability insurance policy is compulsory for this type of stay. We will ask you to produce an insurance certificate for the constitution of your file.
Easy Languages can provide you with a full insurance coverage perfectly adapted for young students travelling abroad, cf. Insurances and guarantees
Dates 2021-2022
1st term: 10/09/21 to 09/12/21
1st semester: 10/09/21 to 23/01/22
1 full academic year: 10/09/21 to 26/06/22
1 and 2 months stays are possible between September and late January
2nd term: 28/01/22 to 27/04/22
2nd semester: 28/01/22 to 26/06/22
Orientation weekend in Barcelona (for 1 term, 1 semester and 1 academic year stays)
10/09/21 to 12/09/21
28/01/22 to 30/01/22
Prices 2021-2022
Tuition & full-board board accommodation

1 month

€

3.795
2 months

€

4.295
1 term

€

4.950
1 semester

€

5.495
1 academic year

€

8.195

Optional extras

Guaranteed choice

1 term

1 semester

1 academic year

Region (East, South, Barcelona)

€

450

€

450

€

450
Cities 1 and Community of Madrid

€

400

€

600

€

1.200
Cities 2

€

450

€

750

€

1.500

Other extras

Special diet (per month)

€

100
Prices include :
Interview
All enrolment, lessons and exam fees in our partner schools
Full-board accommodation in a host family
Personal assistance and support from your local coordinator throughout your stay
Regular contact and progress reports
Detailed, personalized information on all aspects of your stay
Certificate of completion
School reports at the end of each term
Outward transfer from Barcelona airport (except for 4 or 8-week stays) to the host region
Pre-Orientation Meeting in Barcelona (except for 4 or 8-week stays)
All documents required to apply for a visa (for non-EU residents)
24 hour assistance
Prices do not include :
Outward journey to Barcelona
Return journey from your host family to your country of origin
Local transportation
Pocket money: about €150 per month
Course materials (between €150 and €300, depending on the school)
Travel and medical insurances
Visa fees (if applicable, only for non-EU residents)
Dates 2022-2023
1st term: 09/09/22 au 21/12/22
1st semester: 09/09/22 au 22/01/23
1 full academic year: 09/09/22 au 25/06/23
1 and 2 months stays are possible between September and late January
2nd term: 27/01/23 au 02/04/23
2nd semester: 27/01/23 au 25/06/23
Orientation weekend in Barcelona (for 1 term, 1 semester and 1 academic year programmes)
09/09/22 au 11/09/22
27/01/23 au 29/01/23
Prices 2022-2023
Tuition, room and board, and registration fees

1 month

€

3.795
2 monts

€

4.295
1 academic term

€

4.950
1 academic semester

€

5.495
1 academic year

€

8.195

Optional extras

Guaranteed choice

1 month

2 months

1 term

1 semester

1 academic year

Region*
-
-

€

450

€

450

€

450
City**
-
-

€

600

€

900

€

1.400

Others

Orientation week-end in Barcelona

€

250
Special diet (per month)

€

100
Prices include
Interview
All enrolment, lessons and exam fees in our partner schools
Full-board accommodation in a host family
Personal assistance and support from your local coordinator throughout your stay
Regular contact and progress reports
Detailed, personalized information on all aspects of your stay
Certificate of completion
School reports at the end of each term
Return transfer from nearest airport/station to the host family
All documents required to apply for a visa (for non-EU residents)
24 hour assistance
Prices do not include
Round-trip to final destination
Local transportation
Pocket money: about €150 per month
Course materials (between €150 and €300, depending on the school)
Travel and medical insurances
Visa fees (if applicable, only for non-EU residents)
---